Commercial Road Surfacing
WELCOME TO BESTCO SURFACING, TRUSTED AND HIGHLY REPUTABLE ROAD SURFACING CONTRACTORS
At Bestco Surfacing we specialise in providing top-quality road surfacing solutions for a wide range of clients across Essex, Hertfordshire, London, the Home Counties and beyond. With over 40 years of experience and a commitment to excellence, we have established ourselves as a leading choice for road surfacing projects of all sizes and complexities. We like to say that we are leading road surfacing contractors.
YOUR PREMIER CHOICE FOR COMMERCIAL ROAD SURFACING
When it comes to commercial road surfacing, experience, expertise, and a commitment to quality are paramount. At Bestco Surfacing, we bring all these elements together to deliver top-notch road surfacing solutions for businesses and municipalities. We are a one of the most reputable road surfacing companies in Hertfordshire and our geographic location and excellent reputation means we are in an ideal position to offer road surfacing solutions to businesses across London and the South East and East Anglia regions.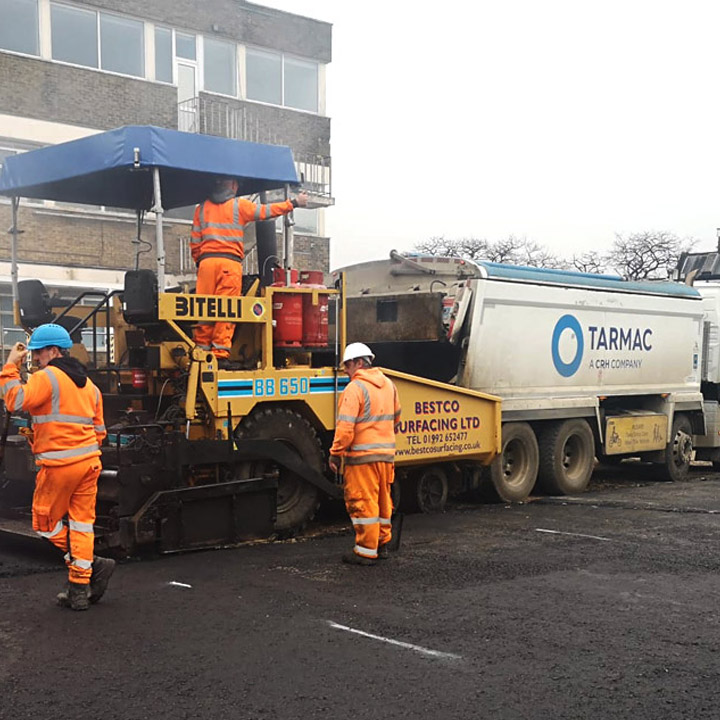 CLIENTS AND ROAD SURFACING PROJECTS WE UNDERTAKE
Like our range of large clients, such as BT, the NHS, and Network Rail, no matter what size corporate organisation you are – you can certainly always rely on us to deliver an exceptional finished product with an exceptional level of service.
As road surfacing contractors, we regularly undertake projects including:
•  Car Parks
• Caravan Sites
• Factories
• Hospitals
• Industrial and Retail Sites
• Property Developments
•  General Road Surfacing
•  Schools
•  Sports Surfaces
We cover a wide range of site types and properties. This includes large footprint sites such as factories, industrial sites, car parks, retail parks and caravan sites. We also serve the public sector across a wide range of clients including hospitals, schools, general road surfacing and sports surfaces. Whatever your requirements, we can help.
For smaller projects such as pathways and a pothole repair, we ensure the same level of attention to detail as larger developments.
COMMERCIAL ROAD SURFACING SERVICES
Asphalt Paving:
We excel in asphalt paving for roads, driveways, car parks, and more. Our skilled team uses the latest technology and materials to ensure durability and a smooth finish.
Road Maintenance:
Proper maintenance is essential for road longevity. Our team offers regular inspections and maintenance services to keep your commercial roads in optimal condition.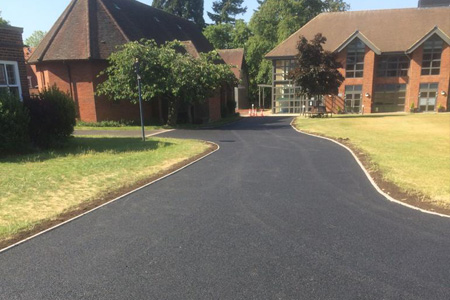 Driveway Installation:
Whether it's for residential or commercial properties, we design and install driveways that are not only functional but also add curb appeal.
Sustainability:
We are committed to sustainable practices and offer eco-friendly options for road surfacing. Our team can advise on materials and techniques that minimise environmental impact.
Line Painting:
We offer full range of line painting to go with any project. This includes:
Yellow & White lines
Car parking bays
Zebra crossings
Zig zag lines
No entry
Quality Materials
We use a range of traditional tarmacadams, traditional hot rolled asphalts and heavy-duty stone mastic asphalts to complete our range of commercial road services projects.
WHY CHOOSE BESTCO SURFACING?
1.Experience and Expertise:
We are one of a few road surfacing companies with a vast amount of experience and expertise. Our team of experienced professionals will bring expertise to every project. Our extensive portfolio showcases our successful road surfacing endeavours.
2.Quality Materials:
We use only the highest quality materials and equipment, ensuring the longevity and durability of your road surfaces.
3.Safety First:
Safety is our top priority. We adhere to strict safety protocols to protect both our team and your property during every project.
4.On-Time Delivery:
Not all road surfacing companies deliver on time as promised. We understand the importance of deadlines and our efficient project management ensures that your road surfacing project will be completed on time.
5.Customised Solutions:
Every project is unique. We work closely with our clients to tailor solutions that meet their specific needs and budget.
6.Competitive Pricing:
As experienced road surfacing contractors we offer competitive pricing without compromising on quality. Our transparent pricing structure ensures you know what to expect.
TRUSTED ROAD SURFACING AND CAR PARK SURFACING CONTRACTORS
Bestco Surfacing has been providing a quality service since 1978, making us one of the most experienced and reputable commercial road surfacing and car park surfacing contractors around. Our workmanship is always of the highest standard, combined with the best possible customer service care.
We believe we offer both experience and great value for money. Don't just take our word for it, please feel free to browse our testimonials.
Contact us today
Whether you have a small repair, a large-scale road surfacing project or are seeking car park surfacing contractors to work on your next project, Bestco Surfacing is here to meet your needs. Our dedicated team is ready to discuss your project, provide a free consultation, and offer a customised solution that fits your requirements.
Contact us today at on 01992 652 477 or email info@bestcosurfacing.co.uk
Bestco are in your area
Back to top