Tar Spraying & Surface Dressing
WHAT IS TAR SPRAYING SURFACE DRESSING?
Tar Spraying is a cost-effective way to rejuvenate an old road, path or driveway surface by covering it with a new layer of fresh bitumen. The new coating of bitumen helps the surface maintain grip and fights general wear and tear.
A surface dressing company working for a range of clients (corporate and residential) across Hertfordshire, London, Essex and the Home Counties
Surface dressing is a method of maintaining roads and similar surfaces. Stone chippings and bitumen are layered on top of the existing surface and then flattened by our state of the art machinery to achieve an excellent finish.
Re-dressing a road surface offers a more cost-effective method than laying complete new asphalt, although this also can be offered by the Bestco team. Re-dressing the road surface also waterproofs the road and helps fight cracking, potholes as well as reduces the risk of slippage for both vehicles and pedestrians.
These rejuvenating methods not only keep the surface looking its very best, but will also reduce long-term maintenance costs. Surface dressing is not just limited to roads, paths, and driveways, but it can also be used for courtyards, rural/industrial tracks and car parks.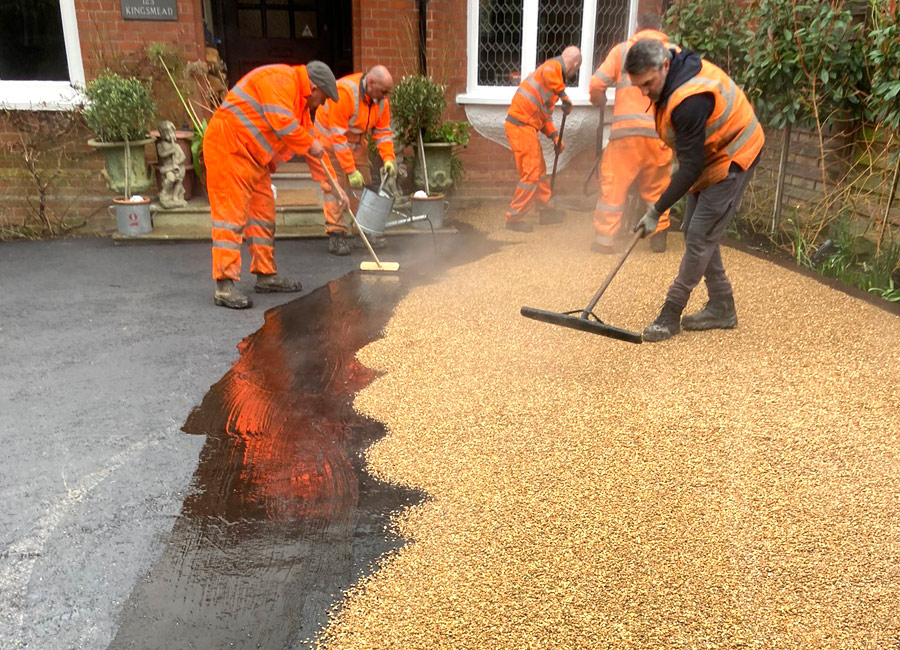 TAR SPRAYING CONTRACTORS AND A SURFACE DRESSING COMPANY YOU CAN RELY ON
With over four decades of experience in industrial surfacing, tar spraying contractors like Bestco can help you choose the right method of surface dressing for your needs. Whether you are looking to re-spray your home driveway or have a multi-storey car park whose surfaces have seen better days repaired, we can help deliver your next project to the highest standards. So if you are looking for surface dressing contractors, consider Bestco. We have an excellent reputation.
See our long list of happy clients…
SURFACE DRESSING CONTRACTORS TRUSTED BY BUSINESSES
Our surface dressing expertise means that we have built an impressive list of clients including the likes of BT and Network Rail. We also offer the same level of professionalism and attention to detail to residential projects. Whatever you requirement, as tar spraying contractors – we can help.
LOOKING FOR A FREE NO OBLIGATION CONSULTATION AND QUOTE?
If you have a surface that requires refreshing in the Hertfordshire, Essex, London or Home Counties region, be sure to contact our friendly team who will be happy to help.
Call today on  01992 652 477 or feel free to drop us an email at info@bestcosurfacing.co.uk
Bestco are in your area
Back to top